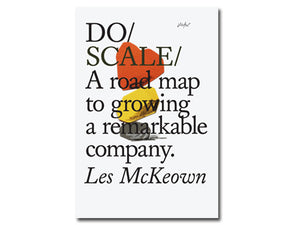 Scaling up is something most founders aspire to, especially once the tricky start-up phase has been navigated. But how do you 'scale' an organisation? And how does it differ from 'flipping' for a quick profit or slower organic growth?

Les McKeown advises industry leaders on how to achieve scalable, sustainable growth. In Do Scale, he draws from his decades of experience to provide a clear understanding of what's involved, and the steps needed to take your business – whether for-profit or not-for-profit - to the next level. You'll find out what it means to scale an organisation –
and if you're ready, why founders often need to 'get out of their own way', how to develop winning teams, and why (and how) you need to build a machine for decision-making.

Full of practical advice and clear guidance on getting from A to B, Do Scale is an essential manual for anyone looking to grow a successful and sustainable organisation – and turn it into something truly remarkable.
128 pages, softcover, 17.8 x 12 cm, The Do Book Co. (London).