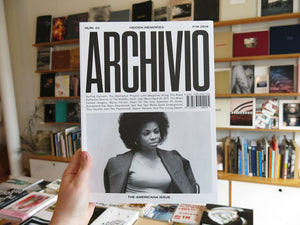 When American surfers were sent to fight in Vietnam they took their boards with them, or at least tried to. Born on the beaches of California and Hawaii, surfing was a peaceful youth culture at odds with the politics of jungle conflict. As the first story in 'The Americana Issue' tells, the soldiers relied on the healing power of riding a wave. The magazine presents this and other stories gleaned from archives, covering topics like the Manhattan Project, powerful black female imagery, 
Jean Baudrillard
 on 9/11, visions of roadside America by 
John Margolies
, 
Tony Oursler
 and the paranormal, 
Anthony Faramelli
on symbolism and liberalism, alternative press from Provo to punk, and more. Thanks to 
Archivio
 (Turin).