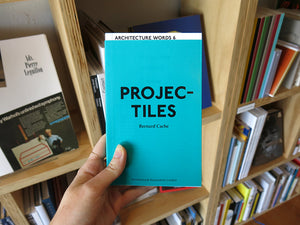 Bernard Cache is the principal of the Paris-based practice Objectile – which he founded in 1996 with Patrick Beaucé – and a noted theorist of geometry and computational ontology.
He formulated his concept of 'non-standard architecture' in his 1995 book Earth Moves: The Furnishing of Territories, a concept that was given the name 'objectile' by Gilles Deleuze in his book on the philosopher Leibniz, The Fold.
This collection of ten essays brings together a number of key texts by Cache. These include his 1999 'Plea for Euclid' and more recent writing commissioned especially for this collection, including 'Vitruvius Machinator Terminator'.
144 pages, 18 x 11 cm, paperback, AA Publications (London).